In childhood when my Aunty was making coffee I was hating to drink it, because I didn't like it's smell. Not getting taste to drink it but we have started to drink this since last year and getting habit to drink it regularly . This coffee is really very energetic. Giving complete fulfillness feeling after drinking it. Yesterday I have fasting and I told to my son to make coffee .He made so excellent coffee that ,I completely forgot I have caught fasting. I feel complete satisfaction.
This coffee is getting everywhere even in your nearest store. Getting easily available online on flip kart, Amazon or on any shop. No more charge to use it regularly.
Lets us see here prize and details about this coffee.
Nescafe Classic Coffee (Imported) Instant Coffee  (100 g)4.2
48 Ratings & 1 Reviews₹494₹59917% off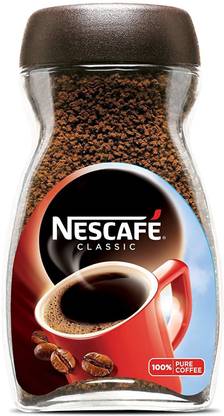 Available offerBank Offer5% Unlimited Cashback on Flipkart Axis Bank Credit CardT&C

Bank OfferExtra 5% off* with Axis Bank Buzz Credit CardT&C
SOME TIMES IT CAN GET WITH BEST OFFERS OR HAVING GOOD GIFT WITH IT .KEEP WATCH ON ADVERTISEMENT.
Thanks for reading my post , if you have enjoyed my review , please buy this product with given link, give ratings to my review, share it and don't forget to give review on my blog.

CLICK ON THIS LINK TO BUY THIS COFFEE.