When we were in Bombay we are feeding apple Jam to my son regularly. We like Kissan jam. Has very nice taste. It can eat small kids happily. Give good energy and relief. Nescafe classic coffee, REVIEW I think no any kid maybe refuse to eat apple jam.
We are bringing Kissan Jam in each week. I think at that time there is less price for it. In the morning while he getting up we are feeding him as like medicine. He feels that it is very nice medicine become cool and silent. As he has to take in every month 2000 Rs injection. These injections creates lot of heat in his body /So we were feeding it him regularly. Advantageous ,Disadvantageous Of Coffee or Tea
Let us check here how did Kissan jam is good to us?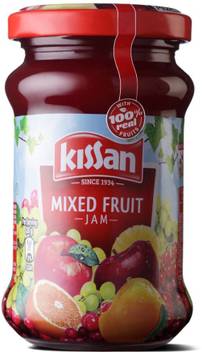 Click on above link to get this product.
₹95₹99 4% off
All fruits are mixed in it. Pine apple, strawberry, banana, pear, orange, mango grape and apple . All are blended in one container . To get good color added some flavors. Has very nice delicious and zing taste. So small kids are eating it happily. In the market this jam is the king of all Jams. Everyone like it.
I to also like it. When there is no any chutney or subji in the home then I am making its tole of chapati and eating it happily.
It gives good taste with all types of breakfast and bread.
SO DON'T THINK MORE BUY IT NOW.
Available offers

Bank Offer5% Unlimited Cashback on Flipkart Axis Bank Credit CardT&C

Bank OfferExtra 5% off* with Axis Bank Buzz Credit CardT&C
THANKS FOR READING MY POST/ Please like, share , give comments and ratings to my post.
If you have enjoyed it share it with friends.
follow me on https://twitter.com/chhaya668