Jagganath Rathyatra- A Mysterious Miracle
This year become more memorable in the history of universe. We know that every year we have Jagganath Rath Yatra on this day with full of devotees and enthusiasm. This year an enthusiasm maybe there but devotees are very few. Now we must have to keep in mind that we are celebrating everything in force of an enthusiasm and same energy but, only we have to take less people with us. Maybe we have to live this life forever. It's God's wish didn't know.
Still we will check here what are some mysterious Miracles in the Rath
Yatra .
Everyone has known that India is famous for spiritual miracles. Miracles happen only in India.T his country is a challenge to the scientist, inventors and for research. Here so many events, so many places, devotees are creating miracles at proper time . This is the main characteristic of India awesome-blogger-award/
We know that this ''Jaggnath Yatra '' is also including to it. This Yatra is started at 6 Jully. This Yatra brings a lot of enthusiasm and energy to the devotee of Lord Krishna. Lakh of People are joining here not only from India but from abroad . This is the real Devotee yatra for all devotees. nothing-is-impossible-in-life-exit-covid/
Let us we will see here what is its importance?
Name of ''Balram Rath '' is Taldhavaj'' Colour of this Rath is red and green. Goddess Subhdra 's Rath name is ''Darpdalan or Padmarath'' it has black, blue or red colour. name of Bhagvan Jagganath is ''Nandighosh or Garuddhavaj'' colour of this Rath is red and yellow.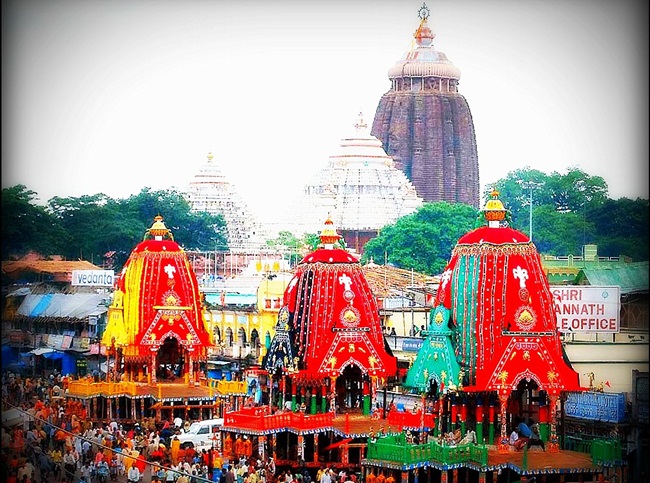 Shri Balram Rath has height 45 feet, Subhdradevi's Rath height is 44.6 feet inch and Bhagawan Jagganath Rath height is 45.6 feet.
These 3 Rath are making from holy Neem tree wood. This tree must be healthy and Shubh tree. To make this Rath one Society is keeping attention on it.
To make this Rath not any type of nail or any metal is used and this is the main important significance of this Rath.
The wood which has to be chosen for the Rath are choosing on ''Shubh ''day. That is ''Vasant Panchami'' .Actual Rath is making from ''Akshay Tritiya''
When these 3 Raths are built then they are making ''Char Pahara '' ''Anushthan '' or meditation.
After that Puri's king came in the ''PALKHI '' They are worshiping 3 Rathas and after that, they are cleaning road with the help of a gold broom.
Then Rath started to move. It is started in the ''Ashadh'' Month on ''Shukla paksha dwitya
On this day Dhol, Tasha, Nagare, Tutari and Shankh makes the big sound.
There is a say that '' Bhagwan Jaggnath '' lives 7 days with his mother's sisters home.
Name of the Gundi is ''Gundi Badi'' that is the home of ''Jagganath Mavshi.
Vishwakarma has made these idols here.
SOME MYSTERIOUS MIRACLE OF PURI
This temple is of 800 years. Structure of this temple is so mysterious that a lot of abroad architectures are coming to see it's plan.
This is the biggest 4 the no temple in India.
The height of Jagganath Lord is 214 feet and area accommodated by the temple is 4 lakh square feet.
There is a ''Sudarshan chakra '' on the peak of the temple.If we will see to that chakra from any side we feel that it is in front of us.
Flag on this temple is always flying opposite side of the air.
Every day at evening flag is changing.
Generally at every place air is flowing from the sea to the earth but here it is flowing opposite of it.
Shadow of main Ghumath is silent. We never see it.
Here birds and aero planes never move around or upside the temple.
There is a full of Grocery for one year and never waste any type of food. Lakhs of devotee are taking ''PRASAD ''of this temple.Never finish food.
Kitchen of this temple is the biggest kitchen in the world. To make food or ''Mahaprasad '' they are keeping earthen pot one by one. All food is cooked on the only wooden fire.
In this biggest kitchen, ''Jagganath favourite food is making '' for that 500 cooks and 300 assistant are ready to cook.
Thanks for reading my Mysterious miracle post . Don't forget to give like, share and comment along with ratings. Watch video on Hindi here https://www.facebook.com/173376270181290/posts/685833945602184/
follow me here http://twitter.com/chhaya668