Everyone's loving God is Ganesha. He is the God of wisdom and intelligent.Since childhood we are listening to his stories, We are worshiping him before starting our any work as thinking that he is the "VIGHANVINASHANK'' GOD and saying these lines in Sanskrit watch video on it
"Vakra Tund Mahakayahttps://www.youtube.com/watch?v=vX9zLb6mH48
Surya Koti Samprabha
Nirvighanm Kuru Me Deva
Sarv Karye Shusarvada Ha"
These lines give us the inspiration to do our work confidently.
Now we will see information about his body &his every organ.
We know the story about him that Lord Parvati made one body from her skins dirty part and named Ganesha and put it in front of her door to protect her. When Lord Shankara came from "Tapshachrya" he saw one boy was standing there for his mother's protection.When Shankara starting to enter his home.He refused to him and then Shankara became angry and he cut his head and he replaced elephants head on the dead body of Ganesha. Meanwhile Parvati became angry and she took form of Mahakali and started to run everywhere to burn the earth. She burnt a lot of place with her anger. Anyway with the lot of efforts Shankara's servant has got mouth of elephant and they brought it to replace head of previous Ganesha.So now Ganesha became different God from that time.Ganesha
OKEY! Let it be true and so many years we are believing this story and worshiping God blindly. No one had put any question about it, or no one thought deeply about this story, Okay, we will see the real meaning of this story.
When Shankara went to do "Tapshchyra" means for meditation for 12 years means he had calm down his mind along with peace and when he came back he would be away from stress, anxiety, anger etc then How could it possible that he had cut his own sons head? and replace elephant's head./?
If he could have to replace head he had been replacing the original head. Why elephants head only?
This means he had cut ignorance of Ganesha and also cut his ego.so that he could live his life peacefully and happily.
His stomach is huge and big means for accepting everything, to accept everything means understanding every soul as it is and showing that I am a strong person"Acceptance is for me to silence my mind" and so that his stomach is big and different.
Now we will see six hands of Ganesha and in each hand, there is a strange thing what shows it?
1]Axe: A wise soul caught an axe means he has to cut past karmic account and negative sanskaras with an axe.
2] Rope: Who wants to walk with the wisdom he should bind himself with discipline and also making binding with another soul.
3] Trishul: It shows the direction of past, present, future. When any hard situation comes in my life,I understand that it is my past karma, but now I have to handle it with a present, keeping far sight to the future that its consequence will come in the future but I have to aware for it.
4] Modak: To prepare it to require hard work which means constant work.It shows success, fame, name etc. When it got to me I have to keep it with humility. Also there is a say that the person or any lady if they have been getting bored to do Modak then they can also become bored to do their regular work. Modak represents never getting tired in life while doing any work.
5] Lotus: The soul which keeps all the above things in his life he will lead a life like a lotus flower. When he is doing any karma there is no attachment to anyone, he is the pure and powerful soul. Our so many God's are in the Lotus like Laxmi . She is giving us a lot of wealth but she has no any balance with her.

6] Blessing: Anyone comes in front of him he always sending a blessing to everyone. We are getting positive energy from him.
7]Vehicle Mouse: Mouse means our inner greed. The soul which is weak then insecurity or inferiority comes in our life. We can't understand, how it came into our life,and it became destructive.
8]Riddhi and Siddhi: A soul when connected to God, he will get automatically peace, prosperity, love, happiness etc.
9] Ganesh Sthapana: What we have arranged in our life, that should we have to implement, then automatically success comes.
GANESHA means wisdom is there, where my thoughts, action and words are in harmony.
Deco Junction Lord Ganesha Showpiece – (Bone China, Multicolor) [57%] off
Be the first to Review this product ₹795 ₹1,865 57% off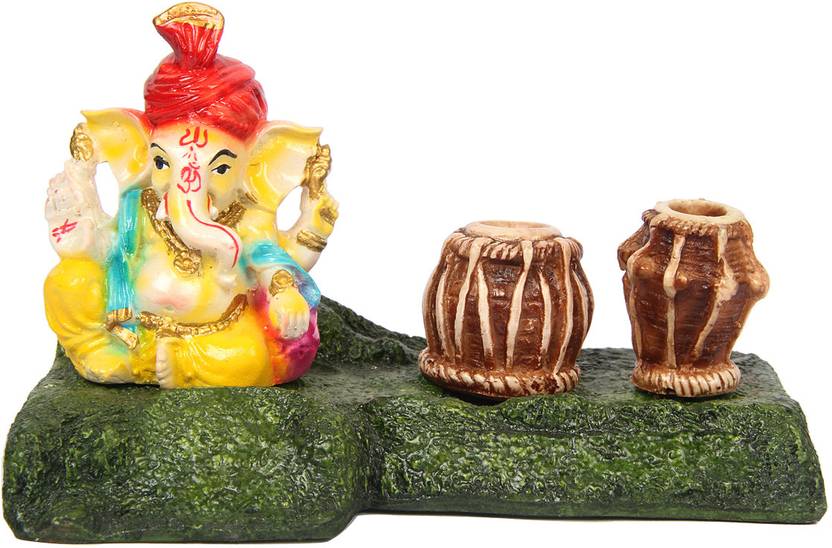 Bank offer extra 15% off with Citibank by DBS with min transaction Rs 750/-
pdkcm
I have been writer in Maharashtra since 10 years. I can make relief any patient with the help of spiritual healing. I overcome cancer & blood cancer with the help of spiritual healing & mind power.I can make free to any person from worry,stress,anger,irritations ,pressure etc.
You May Also Like
13 thoughts on "Meaning of Lord Ganesha !"
https://Instagram.com/deshpandepranita
Thanks for reading my post.If you enjoyed it please share, like, comment on it . Please Follow me on given media link.